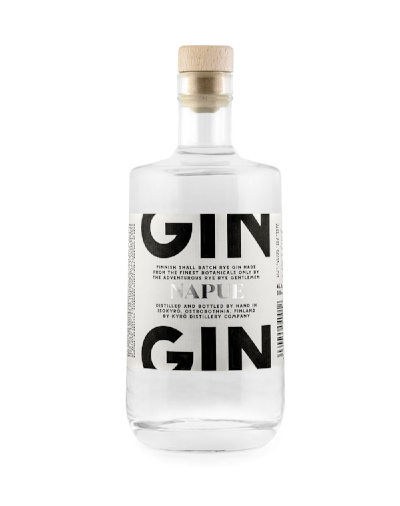 Kyrö Napue
Our rye-based Napue gin boasts locally foraged fresh botanicals, including sea buckthorn, cranberries and birch leaves. The distinct fragrance and flavour of an early morning, misty Finnish meadow is instantly recognisable. Napue gin was voted as "The World's Best Gin for Gin & Tonic" by the International Wine & Spirit Competition (IWSC) in 2015 and in 2016 Napue won the gold medal in the San Francisco World Spirit Competition premium gin-series. Enjoy your Napue Gin & Tonic with plenty of ice, a twig of rosemary, a few cranberries and your favourite tonic water.
TASTING NOTE
Herbal and sweet, essential oils of meadowsweet and gentle citrus on the nose. Full bodied herbal flavour ending with notes of pepper of rye on the tongue.
Specs : 46.3%, 50cl, RYE based
Cool as the Finnish night but with the heat of RYE and the midnight sun Napue is the embodiment of the great Finnish Nature / No compromises: at Kyro they do everything the hard way / Rye is the hardest grain to distil / The northern most Gin and Whisky distillery of the world
Kyrö Koskue
Barrel aged gin Kyrö Koskue is the perfect union of rye, locally sourced botanicals and American white oak cask maturation. This unusual gin naturally also has a lot of whisky drinking fans. Koskue is aged in small American oak barrels for approximately three months and fine-tuned with freshly distilled orange peel and black pepper that complement the vanilla from the barrel and the heat from the rye. Koskue has won numerous international awards, most recently a Gold Medal from 2017 San Francisco World Spirit Competition and Outstanding Silver in IWSC 2017.
TASTING NOTE

Oak and orange with a hint of flowery summer meadow on the nose.Honey, orange and pepper smoothly playing with oak. Works nicely in drinks such as the "Old Fashioned".
Specs : 42.6%, 50cl, Cask matured rye gin
TRUE GRIT
Unique in its kind / RYE Gin aged in small oak barrels for a sufficient enough time / A more deeper, bolder Gin